Written and Performed by
Kareem M. Lucas
Directed by
Zoey Martinson
Production Concept
Stevie Walker-Webb

Composer & Sound – Mauricio Escamilla
Scenic – David Goldstein
Lighting – Josh Martinez-Davis
Costume – Tyler Arnold
Born of disillusionment and a fierce self-excavation, Kareem M. Lucas's Afro-surrealist solo show, iNegro, a rhapsody, takes the audience on a hilarious and harrowing ride through a young Black man's consciousness as he carves out the space to wrestle with his community, his faith, his culture and himself. iNegro is a thrilling verbal dance and a poetic, vulgar subversion of the sacred culminating in a wondrous act of surrender and salvation. It reminds us that we can save ourselves. inspiring, intricate, intense, intoxicating, inciting, iNegro.
iNegro, a rhapsody, is a part of a trilogy of solo shows written and performed by Kareem M. Lucas. The name of the trilogy is "3 Ages of a Negro." Other parts of the trilogy have been workshopped at the Cherry Lane Theatre as part of its 2019 Mentor Project, Next Door at New York Theatre Workshop, the Under The Radar Festival at The Public Theater, among others. This production is dedicated to the memory of the late Craig muMs Grant, his mentorship was instrumental to the development of the trilogy. We love you, muMs.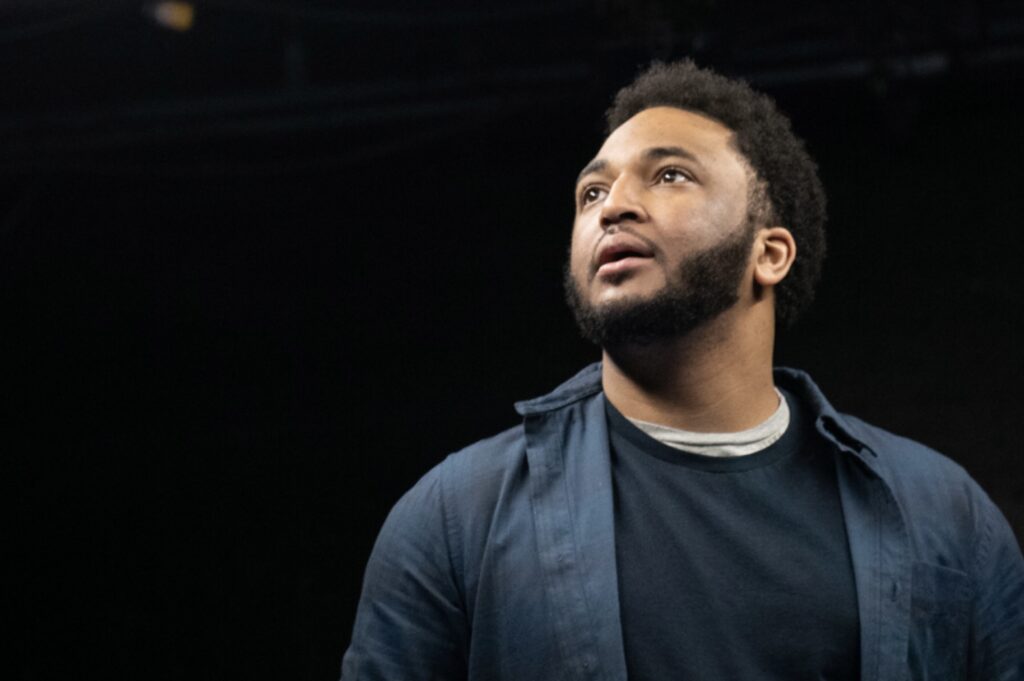 ARTIST BIOS – iNegro, a rhapsody
Kareem M. Lucas is a Brooklyn born and Manhattan based Actor/Writer/Producer/Director. His solo pieces include iNegro, a rhapsody, Black Is Beautiful, But It Ain't Always Pretty, RATED BLACK: An American Requiem, From Brooklyn With Love, A Boy & His Bow, and A Warm Winter. Kareem's performed his work at The Public Theater, New York Theatre Workshop, American Repertory Theater, The Fire This Time Festival, Rattlestick Playwrights Theater, HERE Arts Center, Hi-ARTS, among others. He's an inaugural Jerome Hill Artist Fellow and a Usual Suspect at NYTW. MFA: NYU Graduate Acting Program. For more info visit www.KareemMLucas.com or on Instagram @KareemMLucas.
Zoey Martinson is an award winning writer and director for film and theater. Her work focuses on nuanced stories from the Diaspora. Living in Africa, London, and the USA has given her work a unique lens into the stories she tells. In theater she's written and directed Off-Broadway and internationally. Her award winning film The Fisherman is streaming on HBO Max. She was commissioned by Tribeca Studio's to create the short Cupids, for their 8:46 Films premiering at Tribeca Film Festival 2021, airing on BET & CBS and nominated for an NAACP Image Award 2022. Directed Episode 1-6 of A24's Ziwe on Showtime S2, TV Movie "Uthandiwe" for South Africa's DSTV MzansiMagic, Director for ABC/ Disney Discovers Talent, writer on season 2 of Betty, HBO Max. Her award winning short film 'La Oposición' played at Casa Mexico Program SXSW 2019, distributed by Aspire TV. She is a recipient of the Rauschenberg Artist as Activist Fellowship; NYC Mayor's Film, TV and Theatre grant; and Filmmakers Without Borders grant. Her work has won Diversity at Cannes 2020, been nominated for Amnesty International Freedom of Expression Award, African Movie Academy Award, featured on BBC World Service and published in five anthologies. She is named one of the 18 Women Making Black History by popsugar.com and listed as an artist to watch by American Theater Magazine.
Stevie Walker-Webb is an Obie Award-winning Director, Playwright and Cultural Worker who believes in the transformational power of art. He is Founder of HUNDREDSofTHOUSANDS, an arts and advocacy non-profit that makes visual the suffering and inhumane treatment of incarcerated mentally ill people and the policies that adversely impact their lives. He is a recipient of the Princess Grace Award for Theatre, The Lilly Award in honor of Lorraine Hansberry awarded by the Dramatists Guild of America, and a 2050 Fellow at New York Theatre Workshop. Stevie's served as the Founding Artistic Director of the Jubilee Theatre in Waco, Texas and has created art and theatre in Madagascar, South Africa, Mexico, Mississippi and across America. He's worked as the Outreach Coordinator for Theatre of the Oppressed-NYC. His work has been produced by The Public Theatre, The New Group, American Civil Liberties Union, National Black Theatre and Zara Aina. For more info about Stevie visit steviewalkerwebb.com.

Mauricio Escamilla, MOWRI, is a sound design artist, music producer, composer, drummer, percussionist and audio engineer based in Brooklyn. Having a decade of experience composing and designing for theatre, film, commercial and live music performance, MOWRI thrives within creative collaboration and experimental applications. As a first-generation artist of Central American immigrant parents, MOWRI focuses his creative energy and expertise in collaboration with primarily Black and Indigenous artists of color. MOWRI holds both a BFA in Kinetic Imaging from VCU in Richmond, Virginia, as well as a Masters of Science in Sound Design through The University of Edinburgh, Scotland. Mauricio has mixed, designed and composed for The Billie Holiday Theatre, The Lark, Cherry Lane, Powerhouse, Soho Rep and Long Wharf Theatre. http://www.mescamilla.com
David Goldstein is excited to be working at the New Ohio Theatre! He is currently represented by I and You at Penguin Rep, Winnie The Pooh Show, and That Golden Girls Show.Off Broadway credits include Emojiland, Church and State, Stalking the Bogeyman, That Golden Girls Show, The Portal, Very Hungry Caterpillar Show, Soul Doctor. Regional Credits Include: Timberlake Playhouse, Tibbets Opera House, Cohoes Music Hall, Des Moines Playhouse, Grand Theatre Salt Lake, NC Stage Co, JAG Productions, Luna Stage, WV Public Theatre, Allenberry Playhouse.
Josh Martinez-Davis is a Latino NYC and LA based Lighting Designer. After working professionally for a year, he moved across the country to attend NYU where an understanding of each discipline is a key part of their curriculum allowing Josh to be a meaningful collaborator. Josh's work with light aims to create a meaningful connection between the art and the audience. He believes the lighting designer is a tour guide of emotion and direction. Website: www.joshmartinezdavis.com Instagram: @did_someone_say_lights