Text by Robert Lyons
Directed by Daniel Irizarry
Composer: Rhys Tivey
Set Designer: Deb O.
Costume Designer: Meghan E. Healey
Lighting Designer: Matthew Deinhart
Sound Designer: M Florian Staab
Stage Manager: Emily Hart
Assistant Stage Manager: Ricky Brown
Associate Producer: Amelie Lyons
CAST: Pepper Binkley, Daniel Irizarry, Rhys Tivey, Folami Williams
Imagine two activists hashing out a freely-associated anti-capitalist manifesto. While their favorite professor slides into dementia as he expounds on the unwritten books of our esteemed author. And a poet of privilege performs love poems inspired by her stay in a prestigious artist colony. Then add live music, a couple of songs, and a different guest artist at each performance. Something like that.
Bring a book!
We are asking all audience members to bring a book to donate to the production. Any book. (Books may be incorporated into the show.) All books will be donated to Housing Works Bookstore at the end of the run.
photo by John Keon
Ultra Left Violence reunites playwright Robert Lyons and director/performer Daniel Irizarry. Their Fall 2022 hit My Onliness was called "a welcome gust of weird" (New York Times) and "the most insane show now playing in New York City" (Theatremania). Their earlier collaboration Yovo has been performed in NYC, Poland, Cuba, and South Korea; and has been translated into Spanish and American Sign Language. Both plays are included in My Onliness and Others, a collection of six plays by Lyons published in Fall 2022 by Mercer Street Books. Ultra Left Violence will be further developed in residences at Mercury Store and NACL in late 2023.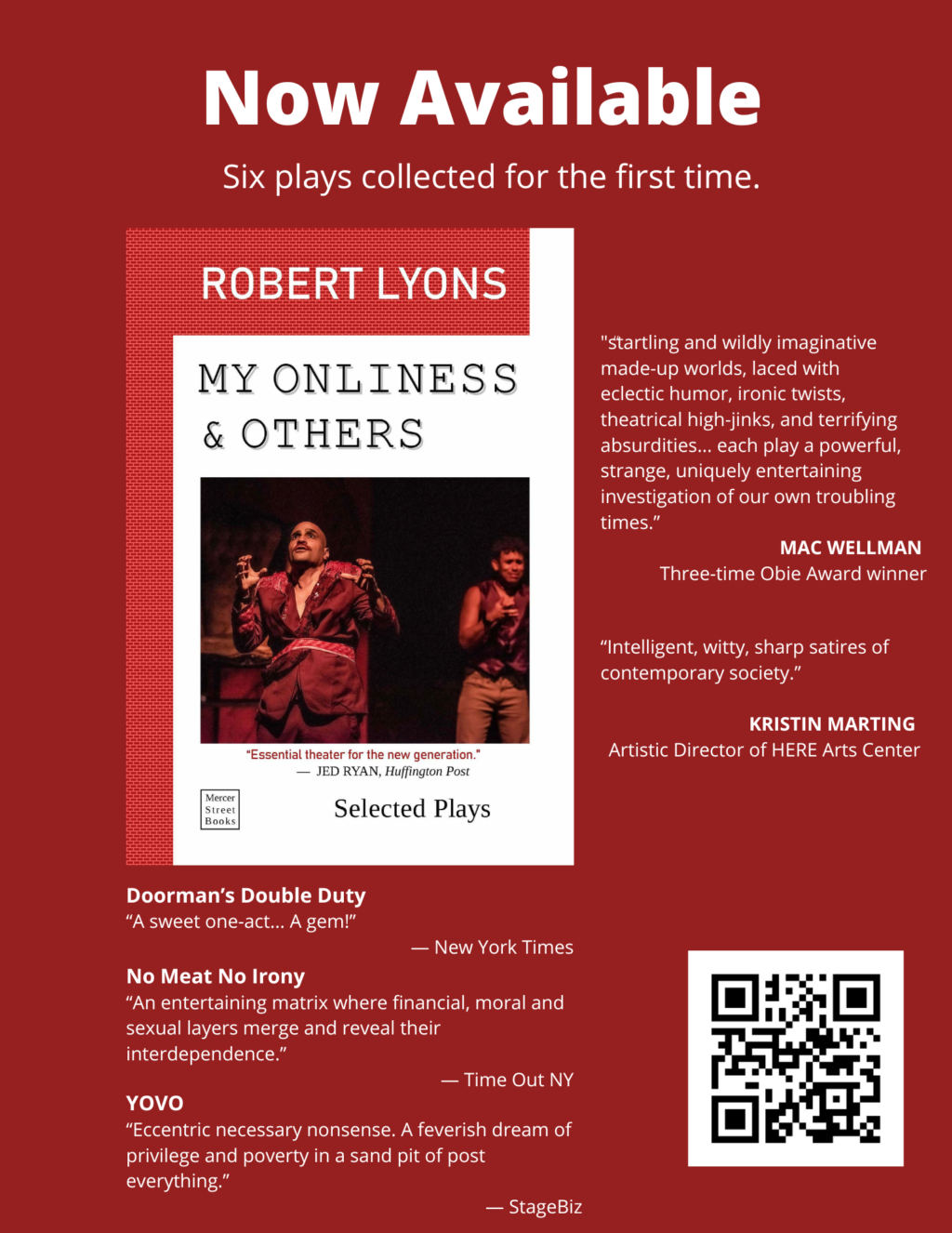 One-Eighth Theater has been creating new, bold, international theater since 2008. Founded by Daniel Irizarry and Laura Butler Rivera, One-Eighth has developed work in the New Ohio Theater / IRT Archive Residency, during a four-year residency at INTAR Theatre, and two residencies with Mabou Mines. Their work has been acknowledged by multiple New York Times and Time Out New York Critics Picks. Traveling and connecting is the key to the company's mission; they have proudly shared sweat and art in India, Japan, United Kingdom, Lithuania, Germany, Turkey, Romania, Poland, South Korea, Cuba, Puerto Rico, Provincetown, and New York City.