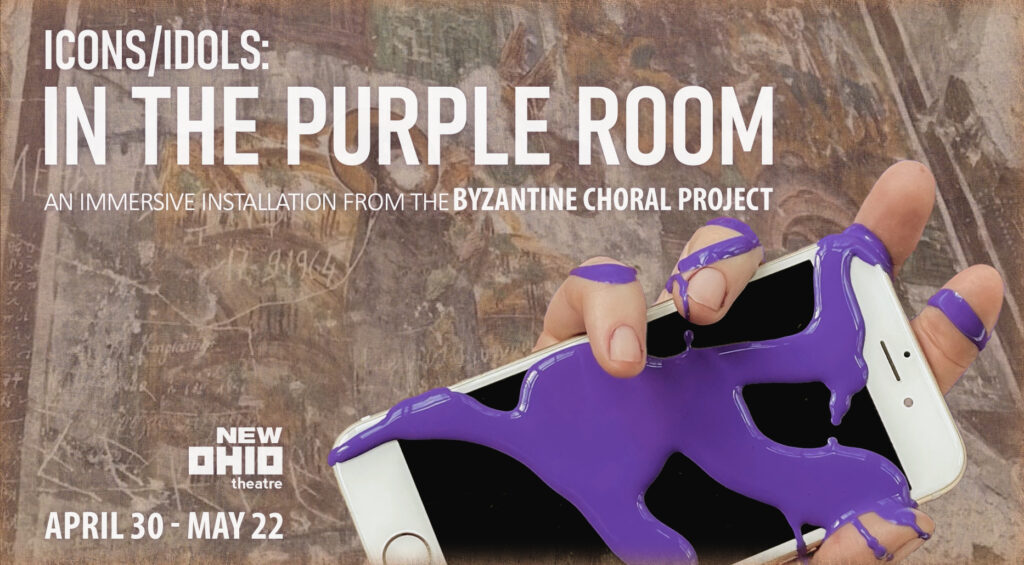 A teenage girl takes the most dangerous object in the world into the main palace in Constantinople. She takes a little painted icon into a place where all icons have been destroyed.
ICONS/IDOLS: IN THE PURPLE ROOM is a choral drama and immersive installation premiering at The New Ohio Theatre. Follow the young orphan Irene into the heart of Byzantine power as tensions between religious and political factions threaten to rupture an empire.
Listening to the story unfold on their phones, a socially distanced audience will be guided through a space charged with birth and death, where power is fought over and exchanged, the mighty can be destroyed, and fragile bodies attempt to channel the divine.
With a haunting score inspired by Byzantine chant, featuring the voices of ten female and non-binary performers, IN THE PURPLE ROOM wrestles with how to make something new out of a shattered world.
*Note: There are no live performers in the space
Book and Lyrics by Helen Banner
Music by Grace Oberhofer
Installation Design by Afsoon Pajoufar
Music Direction by Robert Frost
Sound Design by Grace Oberhofer and Nathan Leigh
Audio Engineering by Nathan Leigh
Produced by Emily Caffery

Audio drama performed by Hilary Asare, Iris Beaumier, Isabella Dawis, Hannah Eakin, Julia Izumi, Grace Oberhofer, Lukas Papenfusscline, Shanta Parasuraman, Yael Shavitt and Kay Weber
How To Experience The Installation
Audience members listen to the show on their own phone/mp3 player/portable device, using their own headphones or earbuds. Information will be emailed 24 hours in advance with instructions on how to download the audio before coming to the show. A wheelchair accessible version of the audio and show will also be available to book in advance.
Timed tickets regulate strict capacity guidelines. Purchase a SINGLE ticket to view on your own or a COUPLE ticket to view with another person.
Covid Saftey

All visitors and staff will be required to wear masks while inside the building. Timed entry will ensure members of separate parties remain six feet apart when inside the installation, and strict capacity limits, enhanced air filtration, health screening and contract tracing protocols will be in effect.
About Byzantine Choral Project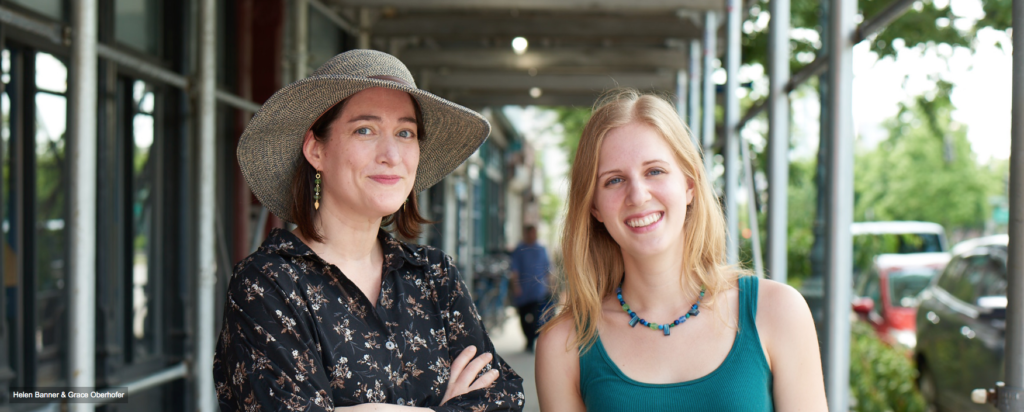 The Byzantine Choral Project is a dynamic collaboration between playwright Helen Banner and composer Grace Oberhofer to make theater using women (cis & trans) and nonbinary voices. Inspired by the Byzantine Empresses Irene, Maria and Euphrosyne, they are creating work that showcases the radical power of strong, diverse performers singing on stage and explores the importance of imagery, representation and iconoclasm in classical and contemporary life. For the past five years, BCP has been developing ICONS/IDOLS, a tetralogy of choral plays uncovering the secret history of these purple empresses as they ascend in a society with deep animosity towards female rule. The arrival of the COVID-19 pandemic led BCP to create an audio drama adaptation of play one, IRENE, and the immersive installation IN THE PURPLE ROOM premiering at the New Ohio. http://byzantinechoralproject.com
History of the Project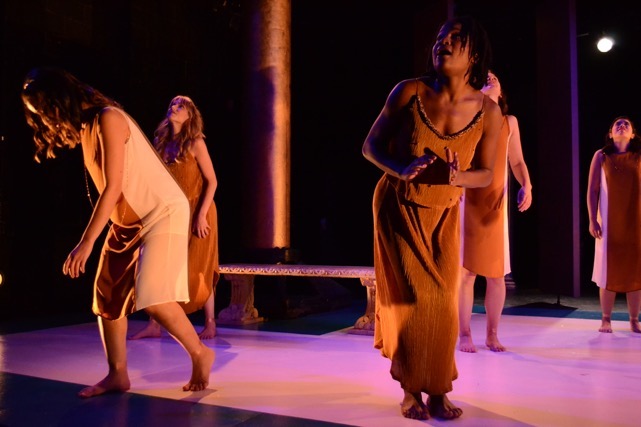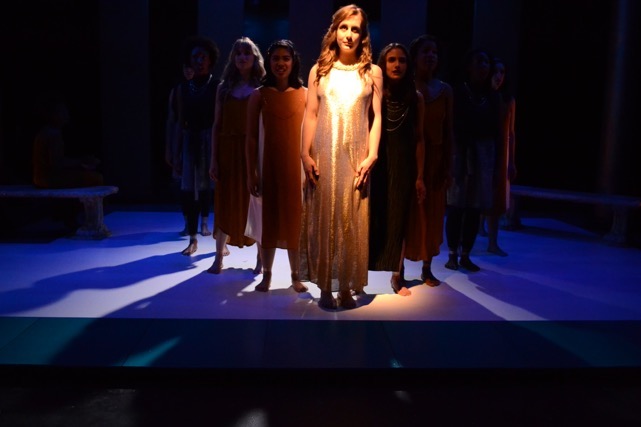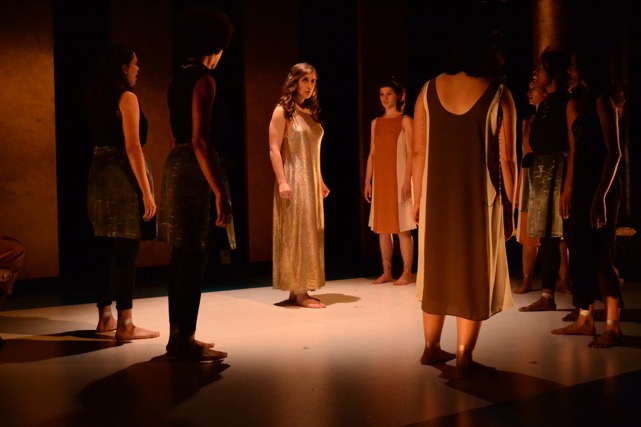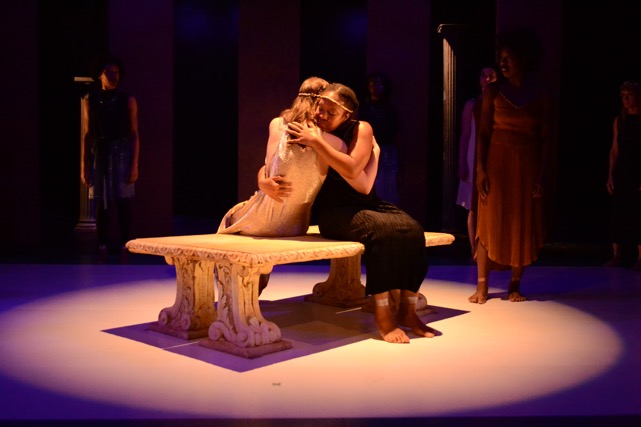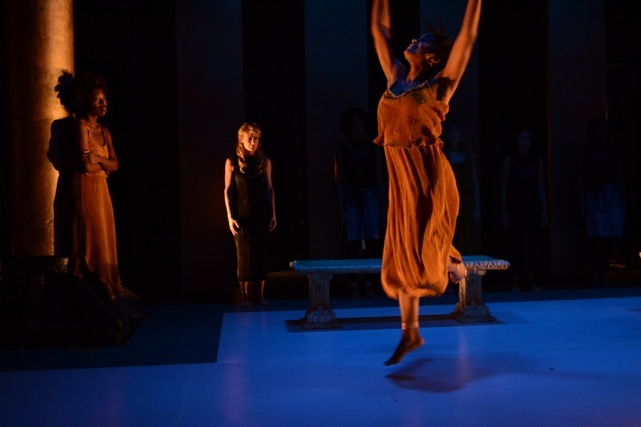 Credits: Photo of Helen Banner and Grace Oberhofer, by John Keon Photo. Production photos by Jo Chiang.
Irene production images : http://newohiotheatre.org/iconsidols.htm