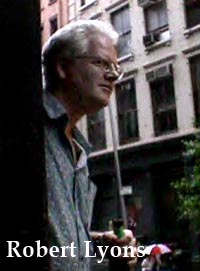 ROBERT LYONS is the Founding Artistic Director of the OBIE Award winning Soho Think Tank. He is also a writer/director.

His last play, Red Haired Thomas , was produced in March 2009 at the Ohio Theatre.
His play PR Man, was featured in American Theatre magazine and is currently in development with Zephuros One films in Los Angeles.
Other plays include: The Doorman's double duty, No Meat no Irony, Dream Conspiracy, Bunko, Vater Knows Best, The Naked Anarchist...Commissioned adaptations range from Dostoevsky(The Possessed and The Fever )to Jay McInerney (How it Ended).

In a profile in TimeOut/NY, his original writing was characterized as "Ralph Nader channeling Preston Sturges."
Robert Lyons Playwriting History