SUPPORT US
Want to help us develop and present the best of New York's independent theatre scene? You can support the New Ohio in three ways:
See the work.
Tell your friends.
Make a tax-deductible donation.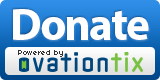 (New Ohio Theatre is a 501(c)3 not-for-profit institution. All
donations are tax deductible to the fullest extent allowed by law.)
You can also mail a check to:

New Ohio Theatre
154 Christopher Street, Ste. 1E
New York, NY 10014

Your help is deeply appreciated!
New Ohio Theatre is generously supported by:
Fan Fox and Leslie R. Samuels Foundation
Howard Gilman Foundation
Mental Insight Foundation
National Endowment for the Arts
NYC Department of Cultural Affairs
New York State Council on the Arts