"PILO is a weird, wild ride...Nick Paglino is gleefully, gravelly devious!"
--NYTheatre.com
New Ohio Theatre presents a Godlight production
JAN 31 - FEB 23
Adapted by Matt Pelfrey
Directed by Joe Tantalo
Based on the novel by the same name


Tues - Sat at 7:30 PM and Sat at 3 PM
No 3PM performance on Sat Feb 2
Sunday Feb 3 at 2 PM and 7 PM


With: Chris Cipriano, Dre Davis, Brett Glass, Lawrence Jansen, Adam Kee, Gregory Konow, Nick Paglino, Michael Shimkin, Jenny Stulberg, Jarrod Zayas

Production Design: Maruti Evans
Sound Design: Ien DeNio
Fight Choreography: Rick Sordelet
Choreography: Maiysha Cade
Costume Design: Orli Nativ
Masks: Brendan Tay & The Puppet Kitchen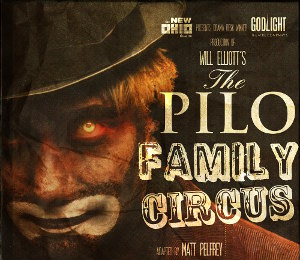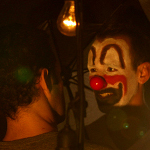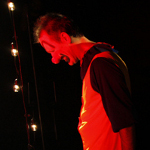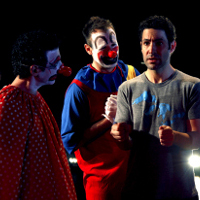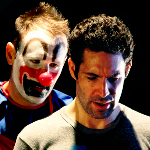 "You have two days to pass your audition. You better pass it, feller. You're joining
the circus. Ain't that the best news you ever got?"
The Pilo Family Circus is recruiting and whether he likes it or not, Jamie is auditioning. He never dreamed of running away to join the circus, but you just don't say no to a troupe of exuberantly sadistic clowns out headhunting. Darkly funny and gleefully macabre, Will Elliott's The Pilo Family Circus, adapted by Matt Pelfrey, follows Jamie's furious descent into the nightmare world of a centuries-old carnival where amid the acrobats, clowns, dwarves, freaks and fortune tellers, you may lose more than just your way. Jamie finds that his worst enemy is himself. When he applies the white face paint, he is transformed into JJ – the most vicious clown of them all. And JJ wants Jamie dead...
Godlight Theatre Company, founded in 1994 by Artistic Director Joe Tantalo, is an award winning and critically acclaimed company and the winner of the Special Drama Desk Award for consistent originality and excellence in dramatizing modern literature, and especially for the vibrant theatricality of Godlight Theatre Company's innovative productions. GTC's mission is to commission novels from the 20th and 21st centuries and produce world première adaptations in new, unexpected ways.
Will Elliott's THE PILO FAMILY CIRCUS was commissioned by Godlight Theatre Company, New York, NY Joe Tantalo, Artistic Director, and is produced by exclusive arrangement with Australian Literary Management, 2-A Booth Street, Balmain NSW 2041, Australia. THE PILO FAMILY CIRCUS received funding and developmental support in 2012 from the Drama League Director's Project's New Directors/New Works Program.