OUR INAUGURAL 2011-12 SEASON
TINY LIGHTS: MEMORY'S STOREHOUSE/INFINITE MINIATURE

May 17-20

2 solos, from things lost and still here

Created & Performed by Lenora Champagne and Lizzie Olesker

Dramaturgy by Claire MacDonald
Sound and Music consultation by Ellen Maddow

MEMORY'S STOREHOUSE/INFINITE MINIATURE is a theatrical collaboration containing dual solos by playwrights/performers Lenora Champagne (MEMORY'S STOREHOUSE) and Lizzie Olesker (INFINTE MINIATURE). TINY LIGHTS presents an intimate yet heightened look at the richness of memory and story contained within everyday objects and gestures. Incorporating elements of Object Theater, gestural dance and poetic text, TINY LIGHTS will unfold in an intimate space with the audience seated on stage at the New Ohio. Using minimal technical and ordinary household elements (lamps, clotheslines, a portable record player, a suitcase, a wig), the performance transforms and unfolds the overlooked "small things" in one's life, revealing something unexpectedly larger. The landscape of the body, domestic memories and personal history converge via the lost rooms we live in.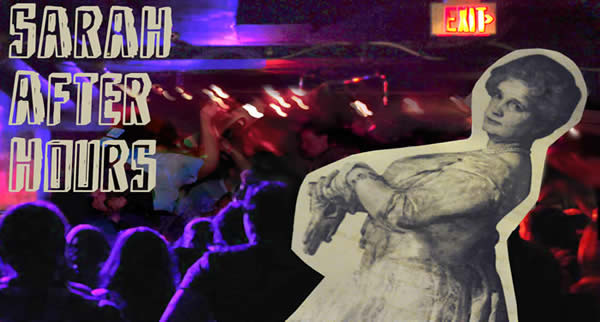 SARAH AFTER HOURS
May 10-12
A weekend celebration of the Sarah Lawrence College Theatre Program
Directed by Christine Farrell
Production Staff:
Director, Graduate Program Dan Hurlin
Administrator Dave McRee
Creative Director Robert Lyons
Producer Ruth Moe
Associate Producer Greta Minsky
Technical Director Rob Gould
Master Electrician Rebecca Sealander
Technical Assistant Marshall Miller
Program Coordinator Peggy McGrath
Theatre Outreach Co-Director Shirley Kaplan & Allen Lang
Made possible by the generous support of Berelle Samuel Theatre Fund
THE DEEPEST PLAY EVER: THE CATHARSIS OF PATHOS

March 9 - 25

CollaborationTown

Written by Geoffrey Decas O'Donnell
Directed by Lee Sunday Evans & Jordan Seavey

Production Staff:

Set, Props, and Puppets Deb O

Costumes Nikki Moody

Lighting Nick Houfek

Sound Brandon Wolcott

Music Michael Wells

Associate Music Direction Nicholas Williams

Percussion Teddy Lytle

Stage Managener Kaitlin Nemeth

Graphic Design Derek Rippe

Creatively Produced Amanda Feldman

Featuring:

Jordan Barbour

Carly Cioffi

Nick Choksi

John Halbach

Boo Killebrew

Geoffrey Decas O'Donnell

Chinasa Ogbuagu

Phillip Taratula

Emily Walton

TJ Witham

Before Mother Courage there was Mother LaMadre. In THE DEEPEST PLAY EVER, an unrivaled masterpiece of modern dramatic writing, our antiheroine Mother LaMadre and her rag-tag crew drag their wagon through the Fifth World War and the post-post-apocalyptic wasteland that is New Europe. Together they must navigate all the pitfalls (and rewards) of the dramatic art of drama to find the few remaining books the art-abolishing Evil Empire have yet to destroy and maybe, just maybe, find a way to replace violence with art. If the zombies don't eat them first. Don't understand? You never will, human.

'From a show called "The Deepest Play ever: The Catharsis of Pathos," you'd expect overstatement, and that's what you get with Geoffrey Decas O'Donnell's musical satire...What you don't get is boredom...Talents thrives amid its tattered decadence."

-Andy Webster, New York Times

"...clever and very well performed...Every actor in this cast is a pleasure to watch...Lee Sunday Evans and Jordan Seavey have directed the piece well...This is an entirely different satire, and is a very interesting moment in the theatre."

-Bess Rowen, Huffington Post
SAMUEL AND ALASDAIR: A PERSONAL HISTORY OF THE ROBOT WAR

January 5 - 21

Extended February 9 - 18

Written by Marc Bovino and Joe Curnutte

Co-Conceived & Directed by Lila Neugebauer

Created by The Mad Ones

Production Staff:
Set Design Laura Jellinek
Costume Design Jessica Pabst
Lighting Design Mike Inwood
Sound Design Stowe Nelson

Featuring:

Marc Bovino

Joe Curnutte

Michael Dalto

Stephanie Wright Thompson

Broadcasting live from the Victory Theater in downtown Irkutsk, it's the "At Home Field Guide," brought to you by Soviet Free Radio Order. Today your hosts buck the chaos and mounting panic to bring you an American story of first love and first heartbreak, along with the musical stylings of Alexei 'Tumbleweed' Petrovya. Tune in, take heart–and be careful out there, friends.

In an alternate global history, the cold war was decided not by détente, not by nuclear holocaust, but by massive robot invasion. Among the survivors, a team of Russian radio hosts, warmed to a lost culture of 1950s Americana, broadcast a story of brothers' love drawn straight from the American heartland.

"Fluidly directed by Lila Neugebauer, the show doesn't burlesque its pop culture sources but honors them."

-Rachel Saltz, New York Times

"A masterful lo-fi goof on sci-fi doom, slyly combining postapocalyptic cold-war kitsch and cracker-barrel nostalgia with a beautiful, bleak, bare-bones love story....This is one of the most smoothly functional theatrical metaphors you'll have seen in a while, a great, small play about decline and denial and the subtler, unspoken bonds of devotion. Without a crumb of optimism, Samuel & Alasdair is still a spot of warmth in a cold world."

-Scott Brown, New York Magazine
POST OFFICE

December 1 - 17

Written by David Jenkins

Directed by Josie Whittlesey

Production Staff:

Set Design Alexis Distler
Lighting Design Seth Reiser

Featuring:

Anney Giobbe

Eric Hoffmann

David Gelles

In a small town in Illinois, a young mail carrier, his aging mentor and a disillusioned housewife struggle to define a new American Dream. A comedy that examines the meaning of work, and the fact that the mail never stops. It never stops. It never does.

Praise for middlemen, Human Animals' acclaimed debut:

"This is what it would be like if Sartre wrote for The Office!"

-Paul Menard, Time Out NY
TWO-MAN KIDNAPPING RULE

October 29 - November 20

A play by Joseph Gallo

Directed by Robin A. Paterson

Production Staff:

Set Design G. Warren Stiles
Lighting Design Robin A. Paterson
Sound Design Craig Lenti

Featuring:

Curran Connor

Duane Cooper

Andy Lutz

One evening in the lives of three 20-something suburban friends who find themselves at a crossroads. A bittersweet look at a contemporary male friendship in decline.

Part of our new College Audience Initiative. Over the course of the run, TMKR will perform for nearly a thousand college students from the Tri-state area.
TAKE WHAT IS YOURS

October 7 - 23

Written by Erica Fae & Jill A. Samuels

Directed by Jill A. Samuels

Production Staff:

Video Design Tal Yarden
Sound Design Kristin Worrall
Costume Design Alixandra Gage Englund
Lighting Design Alison Brummer
Set Design Consultant Deb O

Featuring:

Erica Fae

Nathan Guisinger

Kiki Bowman

David Riley

Taavo Smith

The (too) little-known (true) story of how American women fought for and won the right to vote. Inspired by and composed in the words of Alice Paul, the National Woman's Party, and documents of their time.

Developed, in part, at IRT Theater, ouir new neighbor in the Archive Building.

POST-PERFORMANCE DISCUSSIONS
Join us after the following performances with a special guest for a lively look at the
real-life people inspiring the production:

Wednesday, Oct. 12: NY State Assemblywoman Deborah Glick

Thursday, October 13: Mary Walton, author and biographer of A Woman's Crusade:
Alice Paul and the Battle for the Ballot.

Friday, October 14: Heather Roberson serves as Chair of the Board of the NY-based
grassroots political organization, ACT NOW, is co-author of graphic novel Macedonia:
What Does it Take to Stop a War? and of two collections of women's biographies, and is a graduate student of human rights at Columbia University. Heather will be discussing the modern-day human rights implications of Alice Paul's struggles and successes.