The Great Man is dead.

The family of Wyatt Holloway, American novelist, squints into the light where his shadow used to be. What is his legacy, and is it possible to create a new, better order of things?

I WILL LOOK FORWARD TO THIS LATER is a bitingly funny and tragic examination of art-making and evolution. Inspired by Kabuki theater and interviews with our mentors, The Assembly and a multigenerational ensemble ponder the mysteries of bourbon, coffee, and what makes a meaningful life.

"A cutting-edge young theatre collective" - New York Times

Featuring: Edward Bauer, Ben Beckley*, Vinie Burrows*, James Himelsbach*, Linda Marie Larson*, and Emily Louise Perkins*

Running time: 110 minutes, no intermission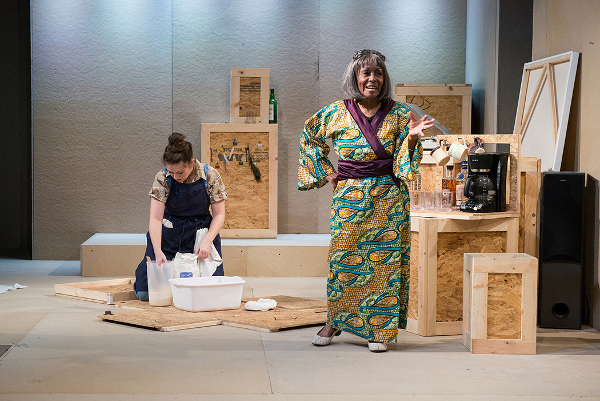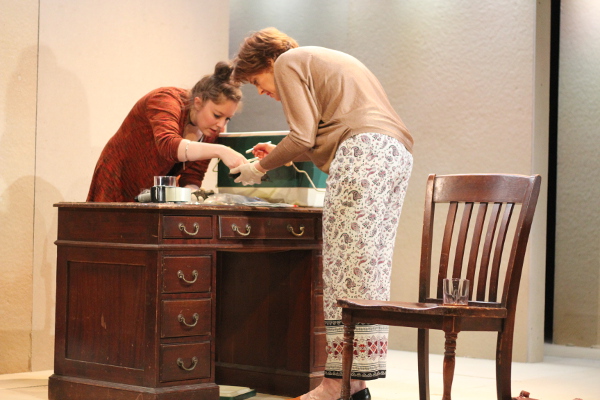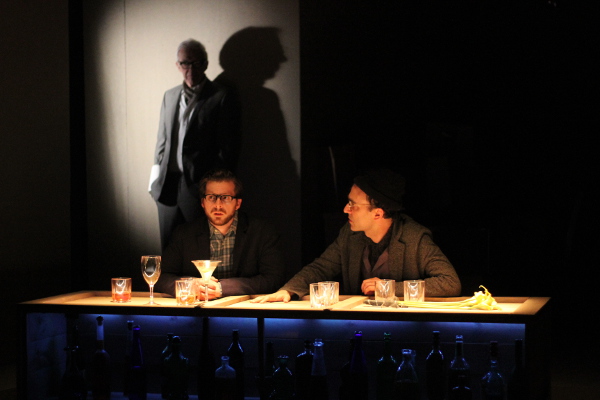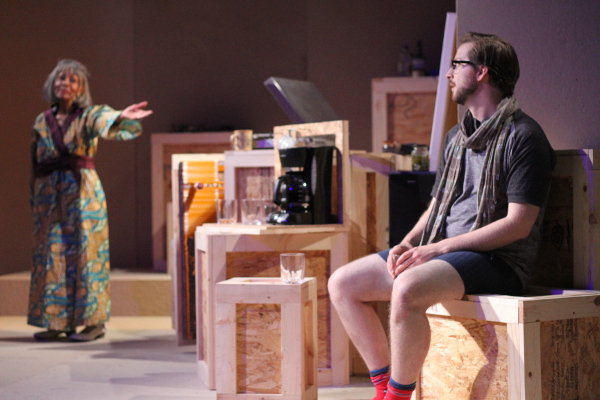 Costume Design: Kate Fry
Lighting Design: Christina Watanabe
Sound Design: Asa Wember
Movement Direction: Katie Rose McLaughlin
Creative Consultant: Barbara Samuels
Production Stage Manager: Megan Sprowls
ASM: Hanako Rodriguez
Movement Direction: Katie Rose McLaughlin
Producer: Lucy Jackson
Associate Producer: Emily Caffery

Photos by Nick Benacerraf and Ariella Axelbank
*Appearing courtesy of Actors' Equity Association

I'LL SLEEP WHEN I'M DEAD: long view conversations about life in the arts

To accompany I WILL LOOK FORWARD TO THIS LATER,The Assembly is curating a post-show conversation series. Talkbacks will feature artists from a multitude of disciplines sparking inter-generational dialogue on the topic of sustaining a life, and career, in the arts world.

I WILL LOOK FORWARD TO THIS LATER explores the evolution of perspectives on art and life over time and across generations, and the creation and destruction of the artist's journey. Central to The Assembly's mission is creating work that fosters dialogue within our community, and the company is excited to offer up this wide range of experience to audience members.

Series participants include actor Reed Birney in conversation with Assembly member Ben Beckley, visual artist Daniel Maidman in conversation with Assembly member Emily Louise Perkins, professor and author Cindy Rosenthal in conversation with the Living Theatre, curator and playwright Jeff Jones in conversation with playwright Kate Benson, and downtown theatre legend Vinie Burrows in conversation with May Treuhaft-Ali, a current theater major at Wesleyan University.

Talkback Schedule: (Bios and photos online here)
Wed 4/13Writer/curator JEFF JONES with writer/performer KATE BENSON
Thurs 4/14Sculptor JOEL PERLMAN with writer/performer BEN BECKLEY
Fri 4/15Performer/living legend VINIE BURROWS with theater student/ Assembly intern MAY TREUHAFT-ALI
Sun 4/17Professor CINDY ROSENTHAL (Hofstra) with THE LIVING THEATRE
Tues 4/19Actor REED BIRNEY with writer/performer BEN BECKLEY
Thurs 4/21Painter DANIEL MAIDMAN with writer/performer EMILY LOUISE PERKINS

Discussions will run for approximately 30 minutes, and take place immediately following performances. Audience members are invited to stay after the show, or join for the talk. No extra booking necessary.

THE ASSEMBLY is a collective of multi-disciplinary performance artists committed to realizing a visceral and intelligent theater for a new generation. Assembly members unite our varied interests in service of wide-reaching, unabashedly theatrical and rigorously researched ensemble performances that address the complexities of our ever-changing world. The company embraces collaboration as the core of the creative process, allowing all the elements of text, action and design to develop side-by-side within the rehearsal environment. The Assembly is dedicated to rooting its artists, audiences, and peers in a profound sense of community.

The Assembly has created seven original works, including HOME/SICK (2011), a New York Times Critics' Pick. The company has performed at venues across New York, such as The Incubator, The Prelude Festival, HERE Arts Center, and The Collapsable Hole, and has toured to Wesleyan University, the Edinburgh Fringe Festival and the Philadelphia Fringe Festival. This summer, HOME/SICK will tour to the Odyssey Theatre in Los Angeles.
I WILL LOOK FORWARD TO THIS LATER was commissioned and developed through the Archive Residency, a program of New Ohio Theatre and IRT Theater. It has also received support from NACL's Deep Space Artist Residency Program.

The Archive Residency is generously supported, in part, with funds from The Mary Duke Biddle Foundation and The Mental Insight Foundation.