WHAT IS ICE FACTORY?
Ice Factory is our OBIE award-winning summer festival of new work.

Every summer we invite the most exciting downtown companies to present their latest projects in an environment of generosity, dialogue, and inspiration. ICE FACTORY is a place where artists can take risks, try out new ideas, and bring their projects to a new level.

Plays introduced in Ice Factory have gone on to garner Drama Desk nominations, OBIE Awards, Audience First Awards in Edinburgh, Off-Broadway productions, commercial runs, and national and international tours.
FRIDAYS ON ICE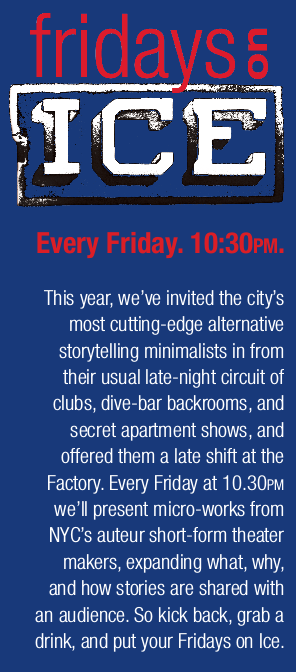 "An annual celebration of the weird, the wild, and the
unexpectedly wonderful."
-- The New York Times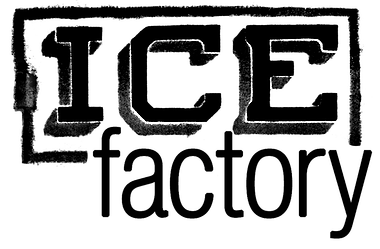 New Ohio Theatre presents
ICE FACTORY 2017
JUNE 28 - AUGUST 12
All performances at 7 PM
Tickets $20 / $16 Students and Seniors
For tickets by phone: (866) 811-4111
Get a 4 PLAY ICE PACK and save 20%! Click here for details.



June 28 – July 1

FERNANDO
Written by Steven Haworth, directed by Jamie Richards

FERNANDO is a romantic dark farce/psychosexual thriller set in Madrid and the international art world. An art scholar and a museum curator negotiate a bizarre romantic triangle with a terrifying genius artist who is missing and maybe dead, but who still manages to be extremely dangerous. MORE INFO...






July 5 – 8
anecdota
A FOOTNOTE IN HISTORY*
Created by anecdota, with music by Rima Fand
An Archive Residency First-Look Showing

"How does it feel to realize you're going to become a footnote in history and a trivia question subject forever?" Dr. Sally Ride: "Gosh, that's quite an honor!"

It's 1983 and America is sending its first female astronaut into space, breaking the ultimate glass ceiling. A rollicking, genre-bending meditation on being an "American First" that looks back to ask how far we've traveled, how far we've come. MORE INFO...






July 12 – 15
BESS AND GEORGE
TRUE RIGHT
Written by Adin Lenahan, Gemma Kaneko and Brittany Allen, directed by Gemma Kaneko

A reimagining of Sam Shepard's True West--featuring George and Jeb Bush, as played by two ethnic ladies. Part satire, part political inquiry, and part karaoke swansong, this piece aims to locate the soul of a dying Moderate conservatism and determine if it's worth saving. MORE INFO...






July 19 – 22
THE NEW WILD
TEAR A ROOT FROM THE EARTH
Music by Johnny Walsh with Qais Essar and Gramophonic, lyrics by Johnny Walsh, book by John Bair, directed by Marina McClure

American and Afghan music traditions blend in a participatory rock concert with a live theatrical narrative about three generations of an Afghan family as they deal with the repetition of foreign intervention. Presented as a series of excerpts from a new musical in development, TEAR A ROOT FROM THE EARTH features world-renowned Afghan-American rabab virtuoso Qais Essar and the critically-acclaimed Americana band Gramophonic. MORE INFO...






July 26 – 29
THE ANTHROPOLOGISTS
THE ANTHROPOLOGISTS SAVE THE WORLD!
Created by The Anthropologists, directed by Melissa Moschitto

A smoker's cessation group resurrects Aldous Huxley, doomsday preppers take on the biggest blackout in NYC history, and Russian robots of war occupy our future in this triptych of plays about people who have the capacity to change themselves - and perhaps the world - for the better. If only they weren't selfish, gluttonous, and self-righteous. MORE INFO...






August 2 – 5

YELLOW CARD RED CARD
Written by Melisa Tien, directed by Tamilla Woodard, choreographed by Joya Powell

A play-and-sporting-event-in-one, YELLOW CARD RED CARD tells the story of four female soccer players in a small Muslim town in Northern Cameroon as they prepare for a championship, and the rest of their lives. MORE INFO...






August 9 – 12
BUILT FOR COLLAPSE
DANGER SIGNALS
Created by Built for Collapse, written by Nina Segal, directed by Sanaz Ghajar
An Archive Residency First-Look Showing

A woman gives a lecture about the brain. A woman bakes a cake. Fuck that. War is coming. A woman puts on a large hat and pushes a sharp object through an eye socket. Chalk dust falls from the ceiling. Two monkeys talk about the ways the brain processes pain. Becky and Lucy. Dr. Walter Freeman. Count backwards from ten. Becky and Lucy. Becky and Lucy. War is coming, always. A multidisciplinary fantasia about the ways we cope. MORE INFO...
Subsidized studio space for Ice Factory generously provided by the A.R.T./New York Creative Space Grant, supported by the Andrew W. Mellon Foundation.

Ice Factory is made possible in part through funding from the National Endowment for the Arts, the NYC Dept. of Cultural Affairs, the New York State Council on the Arts, The Fan Fox and Leslie R. Samuels Foundation, and The Mental Insight Foundation.