Ice Factory is our OBIE award-winning summer festival of new work.

Every summer we invite the most exciting downtown companies to present their latest projects in an environment of generosity, dialogue, and inspiration. ICE FACTORY is a place where artists can take risks, try out new ideas, and bring their projects to a new level.

Plays introduced in Ice Factory have gone on to garner Drama Desk nominations, OBIE Awards, Audience First Awards in Edinburgh, Off-Broadway productions, commercial runs, and national and international tours.
"An annual celebration of the weird, the wild, and the
unexpectedly wonderful."
-- The New York Times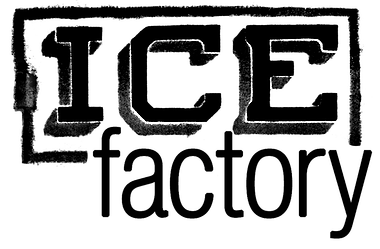 New Ohio Theatre presents
ICE FACTORY 2016
JUNE 29 - AUGUST 13
All performances at 7 PM
Tickets $18 ($15 Students/Seniors)
For tickets by phone: (866) 811-4111
Get a 4 PLAY ICE PACK and save 20%! Click here for details.



June 29 – July 2
THE BYZANTINE CHORAL PROJECT
ICONS/IDOLS
Book and lyrics by Helen Banner, composed by Grace Oberhofer, directed by Colette Robert, choreographed by Erik Thurmond

ICONS/IDOLS is a choral play for over a dozen women. Mixing music, movement and text, it recovers the secret history of the Empress Irene as she fights to re-introduce religious icons into the Byzantine Empire and take power from her husband and son. MORE INFO...






July 6 – 9
UNIVERSAL BELLOWS
ARE WE HUMAN
Written by John Kaplan, directed by Margarett Perry

It's the future. A toxic cloud from the Canadian-Balinese war covers the earth. Androids are torn apart to keep humans alive. America is not so great. Again. MORE INFO...






July 13 – 16
FOXY HENRIQUES/CIRCUIT THEATER
THE ANNOTATED HISTORY OF THE AMERICAN MUSKRAT
Written by John Kuntz, directed by Skylar Fox, created with the original company

All that our test subjects know is that they're in America, and they have to give a presentation about muskrats if they ever want to sleep (unless they're sleeping right now). MUSKRAT is part play, part wild collage of absurd comedy. Get ready to fall in love... muskrat love.MORE INFO...






July 20 – 23
HOOK & EYE
SHE-SHE-SHE
Conceived by Carrie Heitman, and created by writer Virginia Grise, director Elena Araoz, visual artist Susan Zeeman Rogers and the performing ensemble of Hook & Eye

A woman struggling to survive in present day New York City meets an activist living in a 1930s New Deal forest camp for jobless women. Under the canopy of nature and through the clearings in the trees, the two strangers conjure the revolutionary strength necessary to live and love in a dangerous world. Drawing on the poetry of Pauli Murray and visual imagery of Susan Zeeman Rogers, this epic poem, told in the voices of queer women across time and place, explores the complexities of gender, memory, history and love. MORE INFO...






July 27 – 30
PIEHOLE
SKI END
Created by Piehole, directed by Tara Ahmadinejad

A group of adults gets stuck in an abandoned ski shop and engages in a cosmic ritual of nostalgia, apocalyptic delusion, and ski. Inspired by real events. MORE INFO...






August 3 – 6
BENTERTAINMENT
ON A CLEAR DAY I CAN SEE TO ELBA
Written by Eliza Bent, directed by Knud Adams

Lambrusco, putanesca, Queen, and geraniums populate the ongoings in Bent's ON A CLEAR DAY I CAN SEE TO ELBA, a two-hander that is as personal as it is poetic. Exploring the solipsism of love and the maddening aspects of intimacy, ELBA asks what is the nature of self-actualization within a couple? MORE INFO...






August 10 – 13
OUR VOICES THEATER
OUR VOICES PROJECT
Written by Charles Mee, directed by Kim Weild

What drives a boy born profoundly deaf who never learns to read, write, sign or speak, to create over 20,000 works of art? James Castle made himself into one of the most important American outsider artists. Playwright Charles Mee and Our Voices continue their collaboration in investigating the landscape of Castle's world combining music, dance, sign language and more as they celebrate the life of this extraordinary artist. MORE INFO...
Ice Factory is made possible in part through funding from the NYC Dept. of Cultural Affairs, the New York State Council on the Arts, The Fan Fox and Leslie R. Samuels Foundation, The Mary Duke Biddle Foundation, The Mental Insight Foundation, and the generous support of patrons like you!