"To put it bluntly, successful downtown theatre wouldn't happen if it weren't for residencies like this."
- Joe Curnutte, The Mad Ones
THE ARCHIVE RESIDENCY


TEACH, TEACHER, TEACHEST, created by One-Eighth Theatre. INTAR Theatre. Photo courtesy of the artist.
We are excited to announce NYC-based performance ensembles One-Eighth Theatre and The Drunkard's Wife as our Archive Residents for 2018-19. One-Eighth Theatre and The Drunkard's Wife join current resident companies anecdota and Built For Collapse, who presented the first stage of their residency works at Ice Factory 2017, and who will complete their residencies in Spring 2018.

"Sherwood and Flanagin have managed to elevate this orgiastic panoply to a place of sincerity and intelligence while also imbuing it throughout with a screwball bawdiness and irreverence."
- Stagebuddy review of Feather Gatherers, by The Drunkard's Wife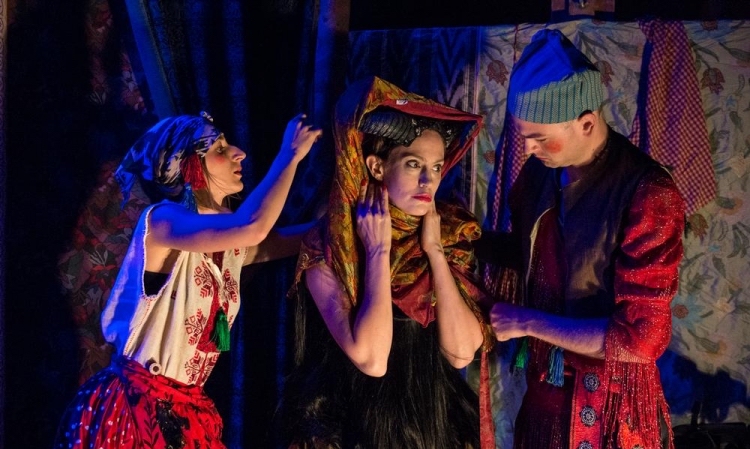 FEATHER GATHERERS, created by The Drunkard's Wife. Ice Factory 2014. New Ohio Theatre. Photo courtesy of the artist.
Founded in 2008 by Artistic Directors Daniel Irizarry and Laura Butler Rivera, One-Eighth Theatre, is inspired by Hemingway's Iceberg Theory - the alluring idea that some things are better left unexplained or open to interpretation. The tip of an iceberg is only one-eighth of what's there, so much more lies beneath the surface. This idea of abstract possibilities is applied to all things One-Eighth. One-Eighth currently had a four-year long residency at INTAR Theatre. From participating in soloNOVA's theater festival to performing at IRT, from two Mabou Mines residencies to creating an original piece at Bilkent University with Turkish actors, One-Eighth is constantly pushing theatrical boundaries. Poland, Japan, United Kingdom, Lithuania, Germany, Turkey, Romania, Korea, Puerto Rico, New York City—One-Eighth also travels the world offering workshops and 'breaking the ice,' sharing their theatrical pieces.

Led by Normandy Sherwood (The National Theater of the United States of America) and Craig Flanagin (God is My Co-Pilot and ½ Japanese) The Drunkard's Wife is a no-wave mountain music band/theater troupe from Brooklyn. Their original works often incorporate raucous, no-wave inflected music and a generous, maximalist design sense. Their plays and spectacles have been seen at Rubulad (Tiny Hornets) Brick Theater (Permanent Caterpillar), New Ohio Theatre (Feather Gatherers), as well as block parties and bars and parades all over New York City. Their 2013 album, I Saw the Evil One, is available here: http://thedrunkardswife.bandcamp.com/



"Charles Mee Jr.'s lyrical, fictionalized bio-play soot and spit conjures Castle's world and work in a beautifully designed, dreamily evocative production directed by Kim Weild."
NY Times review (Critic's Pick) of soot and spit
Our Voices Theater, New Ohio Theatre 2017.
The Archive Residency is our ongoing development and presenting program, providing a two-year commitment of time, space, and support to select independent theatre companies. Each residency culminates in a world premiere of a new work. In partnership with IRT Theatre, our neighbors in the Archive Building, we provide independent theatre companies with that most elusive and invaluable resource: an artistic home.

In the first year we provide them with one month in IRT Theatre's development space to investigate, workshop, and rehearse the work. We then present a simple but fully realized four performance run as part of the New Ohio's OBIE Award-winning Ice Factory Festival. This invaluable opportunity allows the director, designers, and actors to evaluate and calibrate their progress in response to a paying audience. The second year includes another month of development at IRT, and finally a four week run of the World Premiere as part of our main-stage season, giving the company a professional downtown platform to present their work.

[The Essential Straight & Narrow] shoots straight at your heart. With excellent aim."
- Alexis Soloski, NY Times
The partnership between New Ohio and IRT that forms the Archive Residency helps further establish the West Village's Archive Building as one of the premier destinations for the development and presentation of NYC's best and brightest theatre makers.
The Archive Residency is by invitation only. The best way for us to get to know your work and for you to get to know our work is to be a part of IRT's 3B Development Series and/or New Ohio's Ice Factory and/or invite us to see productions of your work.

The Archive Residency is generously supported, in part, by grants from the National Endowment for the Arts; the New York City Department of Cultural Affairs, in partnership with the City Council; the New York State Council on the Arts, with the support of Andrew Cuomo and the New York State Legislature; the Howard Gilman Foundation; and the Mental Insight Foundation.