LEVINGSTON/HARE/LUCKETT
A BURNING CHURCH
August 13-15
Cleo and Pastor Jen are standing in the rubble that was Calvary Baptist Church. Two years ago they lost the lease, eight years ago half the congregation left in disgust, twelve years ago it was the second biggest megachurch in Alabama, thirty years ago they found the pastor unconscious in the basement, and last night...

A kaleidoscopic new musical tracing the lives of church leaders and congregants amid protest movements, tragedies, and spiritual rebirth, A Burning Church is about an American institution fighting to survive a crisis of faith.

A Burning Church will be presented in Ice Factory 2020 not in its eventual form, as a fully-staged, full-length book musical, but rather as a presentation of the show's songs and scenes in the form of parables. The event seeks to imagine the role of the church in movements for liberation and the form that church and theater can take when gathering is not possible.
Book and direction by Alex Hare and Zhailon Levingston
Music by
Nehemiah Luckett
Lyrics by Zhailon Levingston
Featuring: Nik Alexander, Jeannette Bayardelle, Starr Busby, Kayla Davion, Leandra Ellis-Gaston, Kevin R. Free, Avionce Hoyles, Isaiah Johnson, Denise Manning, Carla R. Stewart, Missy Wise
Stage Manager: JhanaŽ Bonnick
Video Design: Katherine Freer
Sound Design: Twi McCallum
Music Director: Nehemiah Luckett
Score Supervisor: Macy Schmidt
Vocal Coach: Kiana Day Williams
Sound Mixers: Carlos Del Castillo, Zť Luis Oliveira, Tojo Rasedoara, Travis Tench
Drums: Elena Bonomo, Eric Johnson
Bass: Nate Stevens, Debbie Tjong
A Burning Church is being developed through New Ohio and IRT's two-year Archive Residency, with a premiere production scheduled for fall 2021. Hare, Levingston, and Luckett have also received the A Blade of Grass fellowship for socially-engaged art, which is supporting the team as they workshop the show in conversation with churches across the country.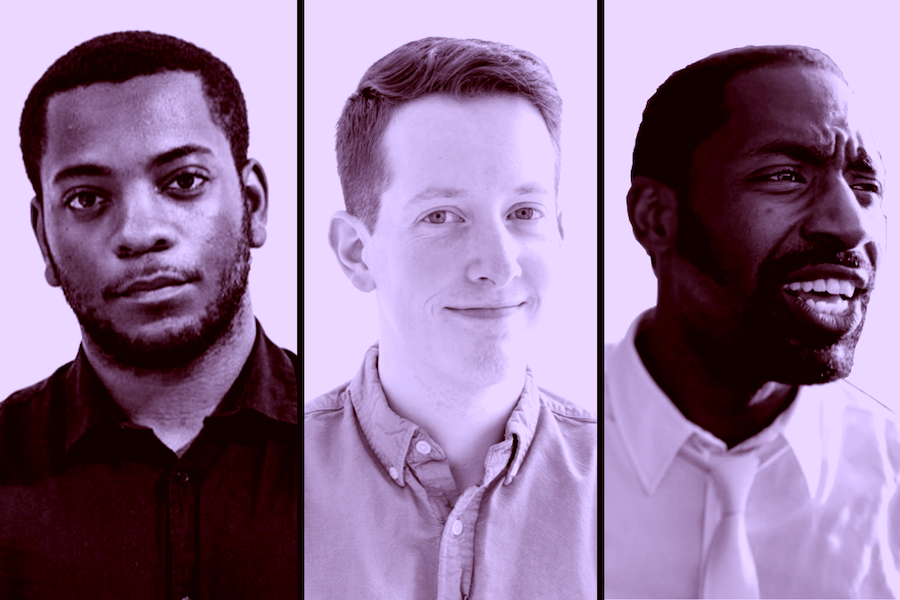 Zhailon Levingston, Alex Hare, Nehemiah Luckett
About the Lead Artists
Zhailon Levingston (Co-Director, Co-Writer) is a multi-hyphenate creator and activist. Broadway: TINA, the Tina Turner Musical (Associate Director for Phyllida Lloyd). Zhailon is a frequent associate director for Rachel Chavkin, including on Reconstruction (created with the TEAM) and Lempicka (Broadway-bound musical). Recent directing includes Chicken and Biscuits (Queens Theater) and the Antonyo Awards. Zhailon is the founder of activist group Words on White and works with the Broadway Advocacy Coalition, which is a collaboration between Columbia Law School and the Broadway community.
Nehemiah Luckett (Composer) - Originally from Jackson, Mississippi, Nehemiah has been performing, composing and conducting for over 30 years. He has been a featured soloist at the National Cathedral, Carnegie Hall and has performed all over the US and Europe. His musical (((Jazz Singer))) with Joshua William Gelb premiered at Abrons Art Center in 2019. Nehemiah is also the Music Director and Composer for Rev. Billy and the Stop Shopping Choir (http://revbilly.com). He has deep gratitude for Power APAC (Academic and Performing Arts Complex) in Jackson, Mississippi where he studied music and theater.
Alex Hare
(Co-Director, Co-Writer) is an NYC-based director of music-driven theatre and the associate artistic director of Corkscrew Theater Festival, which seeks to reduce financial barriers for early career artists creating subversive new plays. Selected by the SDC Foundation as their 2020 Charles Abbott Fellow, Alex assisted Barbara Gaines on her production of the musical Emma at Chicago Shakespeare Theater. Assistant credits include School of Rock (Broadway) and Side Show (Broadway, Kennedy Center). Alex studied American Studies at Columbia University.
alexhare.nyc
Credits: Banner photo at top by David Friend, graphic design by Stephen Davan